We sometimes use affiliate links in our content. As an Amazon Associate, I earn from qualifying purchases. This won't cost you anything but it helps to offset the costs of paying our writing team (Me) Thanks for your support!
Nothing is more satisfying than casting out and chasing a giant carp or catfish. However, bite indication is essential if you want to catch a giant fish. That's when dependable bite indicators come in handy.
Or, imagine you're out ice fishing. You don't want to sit there in the cold for hours waiting for that bite.
If you are interested in Ice Fishing and would like to know more about this sport, follow this link to 
Choosing the perfect bite indicator isn't always straightforward. Therefore, I have compiled this helpful guide to the top bite indicators for fishing in 2022. I've also provided information on choosing a bite indicator for your next fishing adventure.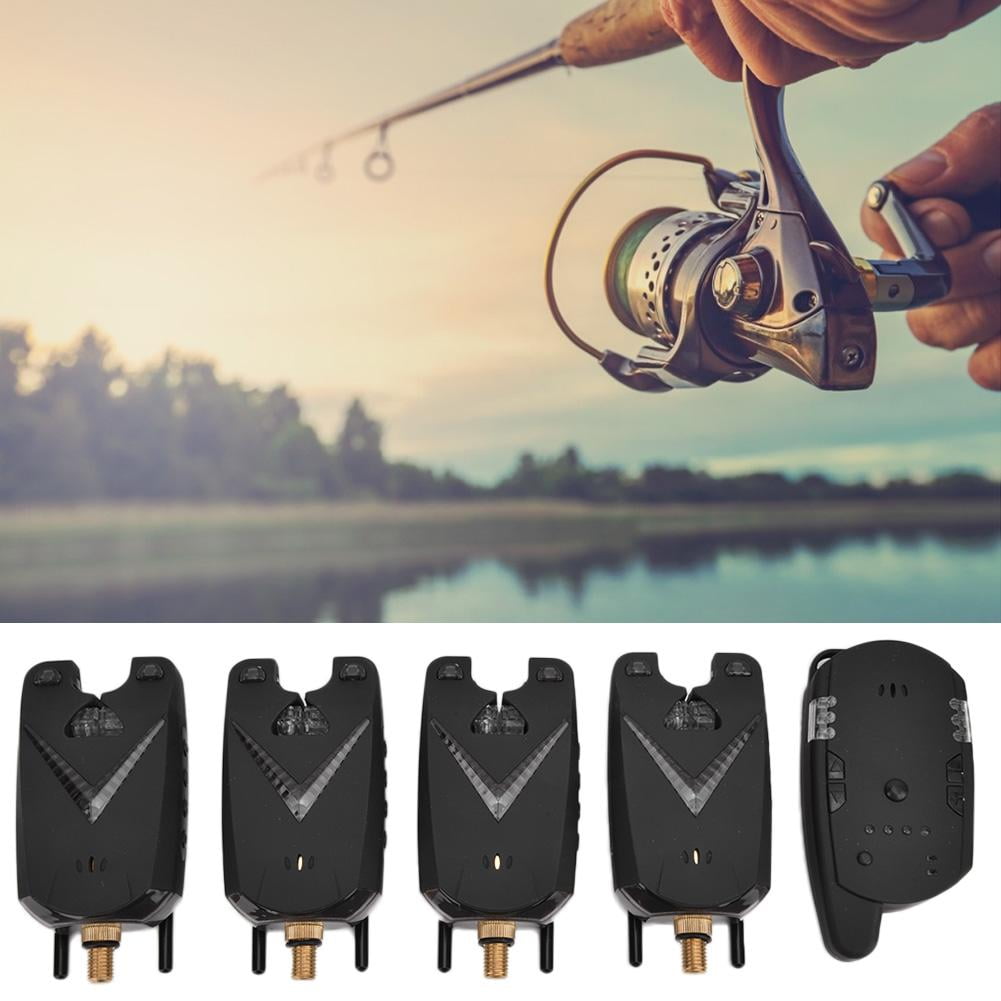 If you would like to learn more about bite indicators, and which one is best for your circumstance, follow this link to Fishing Bite Indicator Guide
Continue reading to learn about the equipment that will help you capture the fish of a lifetime.
Bite Indicators Reviewed
Lixada Digital Fishing LED Indicator
Freetoo Electronic Fishing Bite Indicator
LED Night Fishing Rod Bait Indicator
Wingsflying Overwatch Fishing Bite Indicator
Berkley BAFPB Fish Pole Bell

VGEBY Fishing Hanger Swinger
Buying Guide
You'll need the right bite indicators to take your fishing to the next level. Finding the right one might be difficult, with so many alternatives to select from. However, there are a few things to consider while choosing an indicator, such as:
Batteries
Many fishermen don't think about what sort of batteries their bite indicator uses, but it's essential to consider. You should ensure that the indicator uses conveniently accessible batteries. Most people use AAA batteries because they are commonly accessible.
Fortunately, most new bite indicators have a low battery indication. It's useful since the last thing you want to do is drive to the bank to discover that you can't use your bite indicator.
Sensitivity
When shopping for a bite indicator, sensitivity should be a top priority. On windy days or in unexpected currents, it will decide your success.
Most contemporary indicators have a sensitivity-adjusting option. However, picking one that is simple to use is usually preferable.
If there is too much wind, your indicator may sound continuous. A good rule of thumb is to choose a gadget that employs magnets and wheels since they are the most accurate. Many of the biting indicators listed above have more than six sensitivity settings.
Sound
Because you'll be listening to your indicator every time you go fishing, a bite indicator with a nice tone is ideal. The best gadgets enable you to choose from a variety of sound choices. Standard indicators will have two or three sounds; however, more advanced setups will have six or more.
Furthermore, distinct noises let you comprehend what's going on with your rod. Most indicators, for example, will employ different tones for each condition.
It's also preferable to have a unique sound if you're fishing with other anglers that use bite indicators.
Volume
The ability to change the volume of your device is critical. Not only should you be able to keep the level low so as not to disturb other fishermen, but you should also be able to turn it up if you're far away from your rod.
Fortunately, all dependable bite indicators enable you to modify the noise level quickly.
---
Lixada Digital Fishing Bite Indicators
Now, this appears as if it might belong in the toolkit of the special forces. It's a complete set that includes four bite indicators, and that's a fantastic deal. These are some of the best bite indicators for carp fishing and might be excellent bite indicators for catfishing.
For further information, visit this link
First and foremost, the set includes a convenient foam-lined travel box. It is pretty handy when hauling all of your swim gear to the pool. You don't have to be concerned about them becoming wet; they are very weather resistant.
The package includes a little receiver that attaches to each indicator. You may be over 100 meters away when you are bitten and still 'hear' your alert.
Suppose you wish to match the visuals to your indicator. In that case, each switch has a separate connector for inserting a fish swinger. It is a great added feature as it prevents you from picking up the incorrect rod and missing the fish.
Pros:
• Excellent value with four indicators in a single bundle.
• Convenient storage container.
• Wi-Fi technology.
Cons:
• Four indicators plus the receiver need a large number of batteries.
• They are challenging to assemble.
---
Freetoo Electronic Fishing Bite Indicators
It is something unique, and you get a lot for your money. But how do they vary from other indicators? The bite indicator is attached to your rod by a clip, and a line loop is twisted through a spool. The spool turns when a fish grabs it, and the indicator sounds.
For further information, visit this link
They also light up! These are ideal for night fishing bite indicators since they help you find your pole in the dark. I like how small they are; there will be no fiddling with wires, connections, or receivers. They run on tiny small batteries that should last a long time!
Pros:
• Extremely simple to use.
• Long-lasting batteries
• Light and sound in one convenient package.
Cons:
• You cannot specify a drag for switch triggering.
---
LED Night Fishing Rod Bait Indicators
Want a far easier solution? Take a look at this. It's relatively straightforward. Bright light and a bell that rings as you move! Clip it on your rod, and you're ready to go. I like how simple these are to use, and with 40 in a single pack, you should have plenty for at least a few seasons.
For further information, visit this link
You may believe that you cannot change the sensitivity of these biting indicators. The location of the bell clip dictates how much 'wiggle' is required to set it off. Clip it near the rod tip for maximum sensitivity, or clip it lower on windy days.
To hear your rods, you'll need to remain near them, and they are helpful if you want to sit and relax. Still, we believe you should consider another option for night fishing (arguably the best time to catch catfish).
Pros:
• Simple and efficient.
• Simple to use.
• Excellent bargain.
Cons:
• They cannot be used for casting.
---
Wingsflying Overwatch Fishing Bite Indicators
These operate by spinning the line around a bobbin. The indicator is triggered when the bobbin spins due to line strain. The indicator is set to 80dB! You, and anybody else who happens to be sleeping near the lake, will not miss them.
For further information, visit this link
These, like our prior proposal, really clip onto the rod. A tiny LED light is also included for quick rod identification. They appeal to me since they do not hold the fishing line at an awkward angle. If you hook a large fish, it is less likely to shatter.
These are not water resistant. For this reason, they may only be used to indicate a bite during the warmer months.
Pros:
• Excellent bargain.
• An audible biting alert.
• Simple to install and use.
Cons:
• Once again, things come in the way of reeling in.
• They are not waterproof.
---
Berkley BAFPB Fish Pole Bell
The easiest option is not always the best. What I like most about this incredible product is its American-made excellence. It's a brass bell designed to swing from your line. Consider it a higher-quality version of the LED lights we mentioned before.
For further information, visit this link
Berkley-BAFPB-FISH-POLE-BELL
These may be heard from quite a distance away. They aren't the most cost-effective per unit, so it may add up if you need to churn out three rods constantly. Please remember to unclip them before reeling them in. Otherwise, you may find yourself having a bit of trouble.
Pros:
• Simple and efficient.
• Superior quality.
• Fully waterproof.
Cons:
• Less priced options provide the same functionality.
---
VGEBY Fishing Hanger Swinger
Remember when we mentioned visual assistance for bite detection? It is what we intended. These swingers are kept up by a clip and sit on a rod rest bar, and they drop and swing when the rope is tightened.
For further information, visit this link
This choice comes with a bonus. It also comes with a cable for connecting to an audible indicator. It is pretty handy since it allows you to determine which rod has the bite.
They are very dependable. To remove the clip, you'll need to give it a solid pull. They may be lethal when combined with an audio alert.
Pros:
• There is no mistake when you have a bite.
• Extremely visible.
• Almost flawless.
Cons:
• They might be challenging to set up.
---
That's A Wrap
Fishing is, without a doubt, one of the best outdoor sports. While most fishermen appreciate the pleasure and difficulty of catching carp, having a dependable bite indicator to assist you in achieving your big catch is also a plus.
Choosing the best bite indicator isn't always straightforward. Consider all the above aspects before selecting an indicator to guarantee you obtain the best one for your needs.
Thank you for taking the time to read my post. If you have any questions or comments, please feel free to leave them in the section below. As Always
Tight Lines
Tony, Creator Of Get Reel Fishin