We sometimes use affiliate links in our content. As an Amazon Associate, I earn from qualifying purchases. This won't cost you anything but it helps to offset the costs of paying our writing team (Me) Thanks for your support!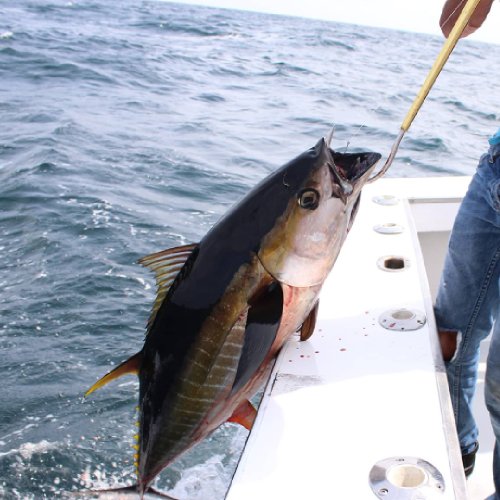 You're in your boat, 20 miles from shore, and suddenly the rod starts screaming. You pick it up and you can feel the weight, you set the hook and you are on. It's the best fish you have been hooked on for a long time. The fight goes on for 15 minutes but finally, you get the upper hand. As you bring him to the boat, your mate grabs the fishing gaff.
He leans over and makes the perfect strike. The fish makes one last head shake, and the hook breaks free, the line snaps, and your fish of a lifetime swims away with your gaff still sticking out of it.
I don't know about you, but this has happened to me. This wouldn't have happened if I hadn't been stubborn and just bit the bullet and bought a new gaff, rather than continuing to use my old one. Good fish gaffs are worth their weight in gold when you have a nice fish on.
Whether you're 20 miles out, fishing the piers and wharves, or just fishing the rocks, a good fishing gaff can mean the difference between taking fish home, and not.
Extendible and Telascopic
One Piece
Rop/Cliff Gaff
Extendable and Telascopic
An Extendable or telescopic gaff is a great thing to have if you are fishing on a high boat, or if you just can't get close to the fish. They are made from many materials these days, depending on your budget, though aluminum is the most common you will find. Your typical gaff will only extend once, but I have seen double and triple extenders around. The thing you need to remember is that for every extension point, you have a weak spot and potential for breakage.
By not extending them fully, you can keep the weak spot to a minimum, though it is always going to be there. I don't keep these on my boat anymore for this exact reason. Of course, the more you pay, the better quality you can get. These telescopic gaffs range in many sizes from small handheld for river and smaller fish, too big boat gaffs.
---
SANLIKE Telescopic Fishing Gaff
Features
15.3-35.4inch/Telescopic Fishing gaff
Retractable design with 3 segments, it's convenient to carry.
Adjustable gaff
Lightweight
High-strength pole
EVA No-Slip Handle
Different sizes and styles available
This is a great little gaff, at a reasonable price. It's made with Aluminum/Fiberglass so it's very lightweight at only 5.64oz. The nonslip EVA handle will make sure you never have it slips out of your hands, with a handy lanyard to put on your arm just in case. The stainless steel hook with M8 Screw is very strong and won't rust, all you need to do is sharpen it now and then.
Telescopic length from 15.3 – 35.4inches is very portable, but also can have a great reach. Another great point is that it can float when extended, just in case of accidents. Comes with a hook cover to keep it safe, just as well as there is a very sharp point on the end of that hook. This gaff also comes in a couple of different sizes Some floating, some not.
---
Kufa Sports Telescope Hand Gaff
Features
Length=30″ ~ 46″
Stainless Steel Hook = 6″x 3.5″
Hook Thickness = 5/16″
Net Weight=1Lb
Aluminum Handle
Once again made with lightweight aluminum, this gaff is still very light for its size. It has a much longer reach than the San Like but doesn't retract as much. That being said, with fewer weak points it is a stronger gaff, ideal for small to medium fish from a boat that has higher sides. You also get a lanyard and a clip for attaching to a belt or jacket. The plastic tip cover will keep both the gaff and yourself safe.
This is an ideal gaff if you only have a reasonably small boat, and not much room to spare.
One Piece Gaff
A one-piece gaff is much stronger than any extendable/telescopic gaff you may find. This is simply because there are fewer weak points on a single piece. The offset is that they take up more room, and aren't as suitable for smaller boats like dinghies. Genuinely they don't come with lanyards, though you can always find some way to attach one if you want. I don't bother.
BUBBA Portable Gaff
Features
MEASURES: 35″ L X 5″ W X 2″ D
EASE OF USE:
DURABLE:
This is what I carry on my boat now and never worry about breakage. The only thing that ever concerns me is keeping a grip on the gaff. That isn't a problem with this gaff as it has a patented bubba blade non-slip grip handle that ensures the gaff stays firmly anchored in the hand even when wet.
Though not as long as most one-piece gaffs around, its 35″ is more than enough in my boat and has the added benefit of not taking up much room. I have even put this in the kayak, and although it was a little large, fit quite early. Made with 17-PH, high-strength stainless steel with a carbon fiber handle, it's strong enough to handle most fish I bring to the side. One bonus is that it sits nicely into my rod holders.
---
Fiblink Fishing Gaff
Features
Stainless steel fish hook
Fiberglass
Available in 3'/5'/6′ sizes
Solid construction
For even the biggest fish
1 YearWarenty
With fiberglass construction for exceptional strength and durability, This gaff can handle just about all you through at it. Being both lightweight and strong, there is no problem getting this gaff into position for the perfect strike.
Equipped with a non-slip grip that offers a safe and comfortable grasp on the gaff, it doesn't matter whether your hands are sweaty/wet or not. With a specially designed stainless steel hook keeper to ensure your fishing gaff doesn't accidentally go overboard, your worries are over.
An additional benefit is the One Year Warranty against any defects. Money-back for non-artificial damage and 100% satisfaction service.
The fish gaff will be the best gift for your kids, boyfriend, husband, or wife on Valentine's Day, Father's Day, Halloween, Thanksgiving Day, and Christmas Day.
Rope/Cliff Gaff
If you have ever fished off a jetty, wharf, or pier, you will know how hard it can be to land a large fish. Dragging it to a nearby ladder so you can go down to retrieve isn't always an option. I have lost countless fish over the years because I didn't have a rope gaff with me. Now, as they become smaller and easier to carry, I always have one in the backpack when heading down.
Mapheox 316SS 4 Prong Cliff Gaff
Features
316 stainless steel.
33cm 8mm thick prongs.
25cm wide.
Comes with a pair of circlip pliers.
Designed to be easily assembled/disassembled for maintenance
Click Here For More Information And To Check The Latest Price
Also, known as a cliff gaff, these are great whenever you are fishing off a high point and can't get down to the water's edge. They have a very simple design, attach onto your line, it runs down to the fish, hook (because the point up) will go over the fish, then it's as simple as pulling on the rope to set the hooks and pull up your fish.
To Wrap Up
If you haven't got a gaff on hand, are you ready for that fishing trip? Don't keep using that old one thinking, it will be ok. Take it from someone that has been there, it won't. That old gaff will eventually fail, and when it does, it will probably be because of a good fish. These are just some that are on the market at the moment. I have personally used all of these gaffs, so if you do have any questions or you have any comments, please feel free to leave them below. As Always
Tight Lines
Tony, Creator Of Geet Reel Fishin