We sometimes use affiliate links in our content. As an Amazon Associate, I earn from qualifying purchases. This won't cost you anything but it helps to offset the costs of paying our writing team (Me) Thanks for your support!
The art of fly fishing has captivated the heart of fishermen for as long as we have been fishing. It's one of the oldest types of fishing, and it's still surrounded by mystery and awe. Many anglers consider it the ideal way to reconnect with nature, which may be difficult to find in current times.
It's not an easy form of fishing, therefore it's not for everyone. But believe me, once you try, you'll be hooked (pardon the pun)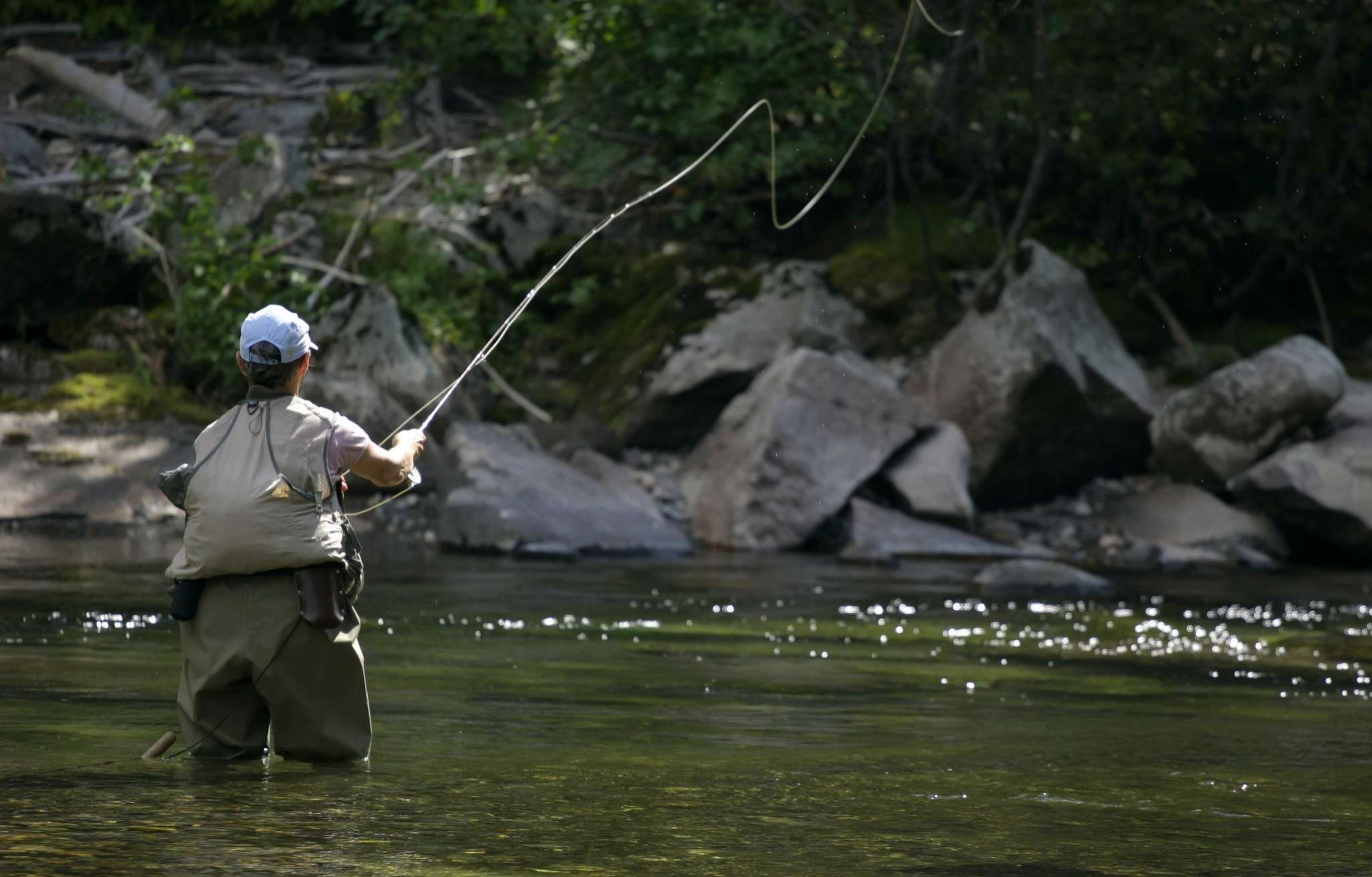 For many, the thrill of the sport comes from continuously attempting new approaches. But that doesn't mean it's out of bounds for beginners. After all, every fly fisher started as a beginner.
Content
Keep reading if you're interested in learning a new way to fish! I'll cover the fundamentals, including common targets, equipment setup, and how to make a great first cast. Let's get started:
What Is Fly Fishing?
Fly fishing is a sport in which a fly is thrown into natural bodies of water to capture fish. Everybody can appreciate it regardless of their knowledge or skill level.
Fly fishing is an exceptionally adaptable and accessible sport. This makes it ideal for individuals who want to go out and appreciate nature without worrying about complicated equipment or tactics.
It's a very specialized form of fishing, that requires its specialized type of equipment.
Types Of Fly Fishing
The fly and hook are located in various places during fly fishing. However, there are two different ways of fly fishing depending on where the fly is situated.
The fly and line used in dry fly fishing are intended to float on top of the water. While this fishing line is connected to the fly by a leader of around 10ft.
The idea of a leader is to be invisible to the target fish. When they swim under the surface, the fly looks like a bug or prey stranded on the water's surface.
Trout, on the other hand, hunt at least 90% of their prey deep beneath. That's why some fishermen prefer to use a nymph fly. The nymph fly, or leader, is weighted in nymph fly fishing so that it sinks deep underwater and attracts hungry trout.
Essential Equipment For Fly Fishing
Before you go on your fly fishing trip, gather the following essential equipment:
1. Fly Rods
A fly rod and its reel are the base of every fly fishing outfit. Fly fishing rods are different from conventional fishing rods. The length of these rods varies, however, the average and most widely used fly rod length is 9 feet.
This kind of rod is also available in a variety of weights. The weight of a fly rod must match the weight of an angler's reel and line.
2. Fly Reels
Fly reels, like fly rods, come in various sizes and combinations. Choosing the right fly reel is critical since it immediately converts an angler's manual force into a powerful degree of fish-fighting strength. This fly reel's weight needs to be matched with the rod and the fishing line.
3. Fly Line/Backing
Fly lines are usually 90 feet long and available in various weights. It is common to practice assigning numerical values ranging from 1 to 12 to categorize the diameters of these weights. Each line is divided into three sections: the head, the taper, and the running line.
The head of a fly line is the heaviest component to which an angler's flies are connected. The taper is the section of the running line that joins the head, and the running line is just the line spooled out while casting or battling a fish.
Furthermore, almost all fly fishing reels employ a monofilament or fluorocarbon line backing. This backing gives additional line length in the event of a lengthy battle while also preserving your fly line while on the reel.
4. Leader/Tippet
A fluorocarbon or monofilament leader helps to connect the tippet to the end of an angler's fly line. This tippet is then tied off to a fly. Leaders are available in various sizes and lengths, making them a viable alternative in almost every situation.
The spool may be used to buy a Tippet and comes in various strengths. These strength ratings range from 0X to 8X, with 0X being the most powerful. Tippet, like leaders, is available in monofilament and fluorocarbon versions.
5. Flies
Flies are now available in various sizes, shapes, and combinations. Dry flies, nymphs, and streamers are the most frequently used flies.
Dry flies resemble natural insects and are made to float on the surface of the water.
Nymphes are tiny invertebrates that move through the water column.
Streamers have the look of natural baitfish like minnows.
6. Waders
While wading through a body of water is not always essential, the architecture of many creeks and streams necessitates it. Consequently, waders are available in almost every size and insulated and non-insulated varieties.
It gives an angler a variety of alternatives to choose from to choose a pair of waders that precisely meets their demands.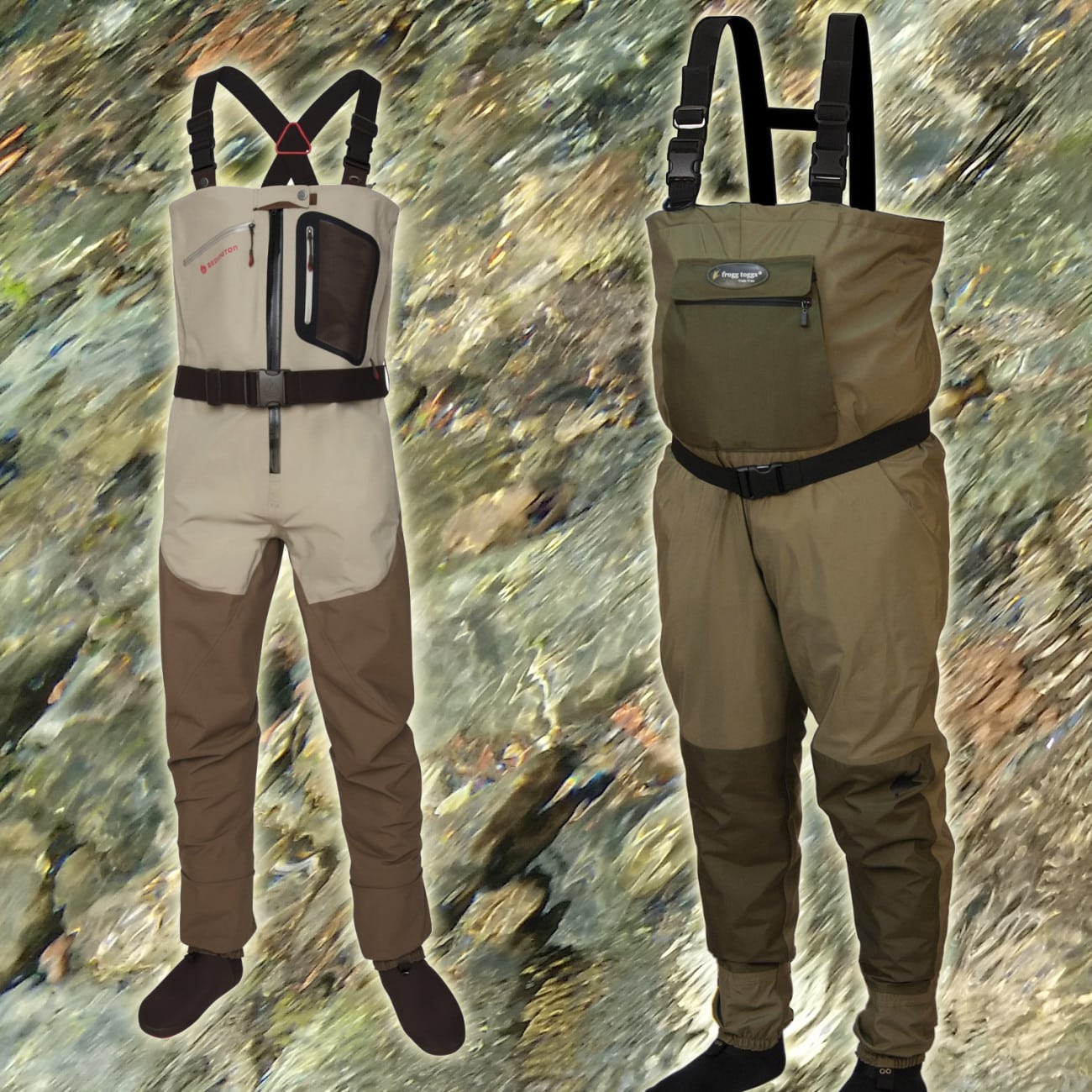 7. Fly Fishing Clothing
Anything you wear on a regular charter is acceptable attire for fishing from a boat. However, since the bulk of fly fishing possibilities occurs either from shore or in the water, we've addressed the details for this sort of fishing below.
You may choose between chest and waist waders. Chest waders are ideal for deep rivers with lengthy throws. Waist waders will suffice if you want to keep close to the coast.
While many waders come with wader boots, this is not always the case. Choose from long boots that reach your hips, knee-length wading boots, or even wading booties if you're staying in shallow water.
These vests are warm and valuable, with various pockets, many of which are waterproof and convenient lanyards for storing your gear, small tools, and even your phone, wallet, and fishing license.
When fishing, we all know that the weather may change quickly! A simple raincoat is well enough to keep you dry during the warmer months, and you'll need a thick jacket in the early spring and autumn to keep you dry and comfortable.
Spending hours casting, sometimes you forget about being in the direct sun, and getting hit from top and below. A good hat is essential to make sure your day is enjoyable, and you don't go down with sun stroke.
If you're looking for a fishing hat, you're in luck. I have already researched for you. You can see my findings by following this link to Saltwater Fishing Hats (Ultimate Guide To The Best 10)
How To Start Out
After you've acquired all the necessary equipment, you'll need to know what to do with it. Listening to seasoned fly-fishing fishermen is the best way to learn.
You can watch them give guidance on YouTube, read books they've authored, or join a fly fishing club to learn from seasoned fishermen firsthand.
The Best Spots And Flies
Interacting with local fishermen can save time and money since they can lead you to ideal fishing sites and teach you where to stand in the stream or river to catch your desired fish.
You can also hire a fly fishing guide to show you the ropes and help you get started if you're unfamiliar with the sport.
An expert fisherman can also educate you on which flies are ideal for capturing your preferred target species. Some lifetime fisherman even builds their flies, a valuable skill to learn.
Knots
You'll need to tie a knot in your line, your leader, and your fly when you fly fishing. There are several types of knots used for these objectives, which you may learn about by reading books on fishing knots or watching educational YouTube videos.
To learn some great knots, follow this link to The Best Fishing Knots And How To Tie Them
Your knots must be robust; otherwise, they will fail when a fish is hooked. Before tightening the knot, wetting the fishing line with saliva, and snipping off any surplus line.
Understanding The Current
Predatory fish in flowing water prefer to direct themselves upstream to take advantage of food drawn toward them by the river. It indicates that their attention is directed upstream. Anglers may exploit this by approaching them from behind and wading upstream.
To avoid casting a shadow, you must enter the water quietly and in the shade if feasible. Wade carefully and smoothly to reduce waves.
Fly fishing with more experienced anglers helps you rapidly discover methods like these and the types of hiding spots where predatory fish are likely to await their victim. They can advise you and answer your queries.
Casting
Fly fishing is done by casting the fishing line rather than the fly. The heavier line follows the lighter fly. The forward cast is the most common kind of cast.
To cast, the fisherman whips the line into the air, back over their shoulder, and then propels it forward with a swing of their forearms.
Be sure you have enough room to complete the cast before you start. Check for overhanging branches or objects on the riverbank if the river is nearby.
Three-rod lengths of fly fishing line should be released. Extend your dominant hand and whip the rod tip up and back in one fluid stroke. If the fishing rod tip has enough impulse energy, the fishing line will shoot forward the distance needed to put the fly where you want it.
You can't expect to get your cast right on the first attempt, just as in any other sport. Monitor expert fisherman, mimic their technique, experience it yourself, and then practice until you can do it well.
Hooking The Fish
Keep the line tight, so you can feel a bite and the tip low to make hooking easier. When a fish bites, hold the rod firm and tug the fishing line with your other hand to set the hook.
Keeping the rod high will help keep the line tight, therefore minimizing the chances of the fish spitting the fly. But keep in mind, these fly rods aren't that heavy, and may snap if fighting a larger fish.
If this is the case, keep your rod down and maintain the tension with the reel and your hand.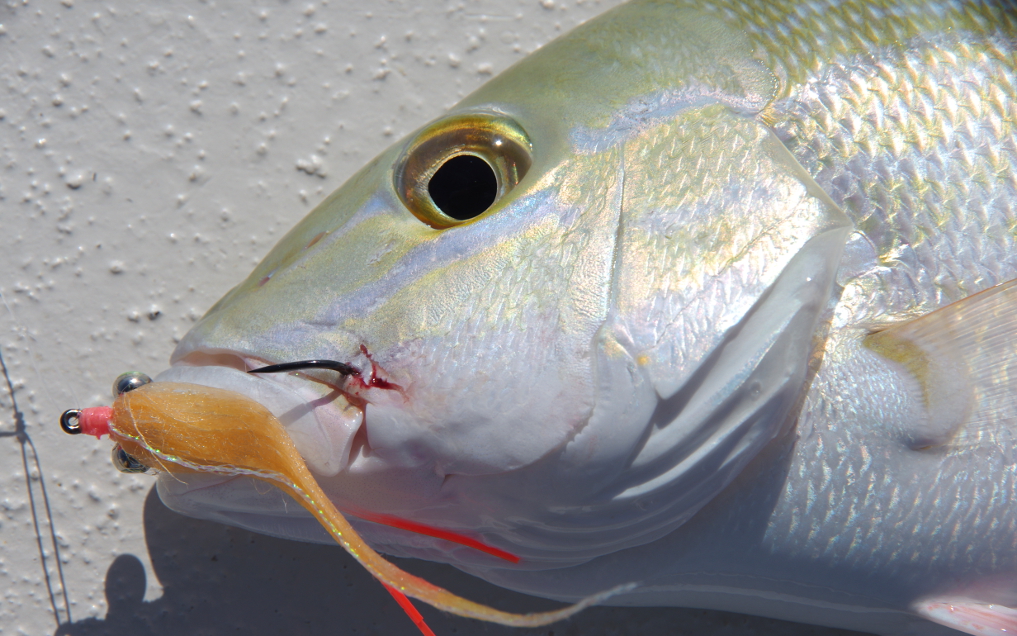 Landing Your First Fish
If you want to capture and release the fish, leave it in the water for as long as feasible. Catch and release may be required in certain regions, particularly in the wilderness and national parks.
Place your landing net in front of the fish and lead it in headfirst.
Once the fish is within the net, flip the rim up to send it to the bottom and keep it from escaping.
While unhooking the fish's mouth, take care not to injure it. This task requires the use of needle-nose pliers or a set of good lip grips.
To see a great selection of the best lip grips available, follow this link to 5 Best Fish Lip Grippers
Keep the fish out of the water for no longer than you can hold your breath. Do not squeeze its stomach or touch its gills.
Be A Good Neighbor
Avoid wading too near to another angler's fishing location. Fly fishing is a solo activity. Most importantly, avoid positioning yourself immediately upstream of another fisherman. You'll ruin their chances of catching any fish if you don't!
To protect fish supplies, don't keep more than you need. Check with local authorities to ensure that you are permitted to retain the fish since many places are catch-and-release only.
While you're fishing and after you're done for the day, make sure you leave nothing behind and don't harm the local ecology. You'll want to stay fishing there for a long time.
Get A License
Check to see whether your fishing license is still valid in the state and up to date. Most states use the money you pay for your support to fund river and lake conservation programs. You may get your license from the United States online.
Annual permits are less expensive for regular fishermen. Day licenses are typically about $20. However, yearly licenses range from $30 to $150, depending on your state of residence.
That's A Wrap
Fly fishing can be, and is a very rewarding and enjoyable activity. It is an excellent technique for beginners to learn. It may be challenging to start, but stick with it and you will get your rewards.
Now that you're an expert, it's time to head over and check out my other posts on this exciting sport. Follow these links.
Types Of Flies For Fishing (How To Choose)
Fly Fishing Rods Reviews (Best 6 )
Fly Fishing Reel Reviews (Best 7)
I hope you enjoyed reading my post, and have hopefully learned a thing or two that will help you up your fly fishing game.
If you have any questions or comments, please feel free to leave them in the section below. As Always
Tight Lines
Tony, Creator Of Get Reel Fishin